The unique steering wheel connection protects against injuring the child's fingers and the limited turning angle of the steering wheel ensures additional stability and safety.
The steering wheel has rubber grips for a more comfortable grip.
The balance bike is made of wood – birch plywood, the surface of which is treated with environmentally and skin-friendly – linseed oil.
The price of the balance bike also includes a seat. Please select the desired color from options above.
The seat is adjustable to your child's height with a changeable height from 30cm – 39cm (from the ground).
The DIP DAP balance bike has inflatable, 10-inch tires with black rims.
The balance bike develops a sense of balance and coordination, and also prepares the child for riding a pedal bicycle. A safe way to train a young child to ride a bicycle.
Can be used both indoors and outdoors.
You will find more information about the balance bike here.
The DIP DAP balance bike comes in a cardboard box, including all the required components for assembly. A detailed instruction manual for assembly and usage is included.
In case you prefer to skip the technical steps, we suggest opting for courier delivery and mentioning in the order notes that you would like to receive the balance bike pre-assembled. We will prepare the bike for you, fully assembled and ready to ride, with just the handlebar needing to be attached before you can start enjoying your DIP DAP experience.
Please note that shades and texture of the same wood product may vary after processing. Pictures are informative: when you receive the product, it might be a little lighter or darker than the picture.
When manufacturing this children's wooden balance bike, European toy standards have been adhered to. If a child plays with the balance bike according to the instructions, the risk of injury is very low. However, regardless of precautions taken, a child's nature and natural inclination for continuous movement can lead to unforeseen situations and hazards for which the manufacturer cannot be held responsible. Therefore, before a child starts using this balance bike, it is important for adults to provide proper instructions on how to use it correctly. Parents should supervise their children and prevent any potential dangers associated with using the balance bike.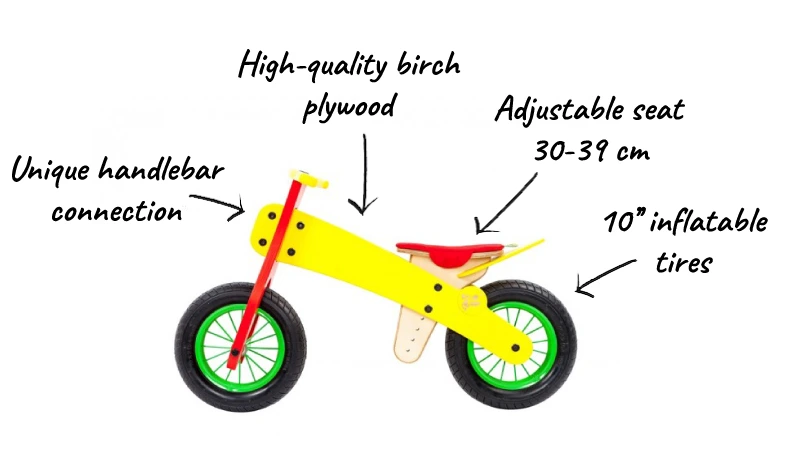 Safety instructions for using the balance bike:
The discount can be issued 10 working days before the name day.
As part of the promotion, it is possible to engrave both sides of the scooter frame for the price of engraving one side.
The name must be included in the calendar. The engraved word must match the word in the calendar, the word can also be in different inflections.